When EB Steals Your Cat
My mom got an adorable kitten last weekend. When I showed my boys the sweet picture she texted us, Jonah questioned me about our cat that we re-homed when he was little.
"Why did we get rid of her?" he asked. "It was because of me, wasn't it?" He looked dejected and hurt.
"Jonah, her hair got in your bandages and skin. It was nobody's fault. It just was." 
Because Jonah's skin is in a constant state of healing and regrowth, when he gets pet hair under his bandages, it grows into his skin. I literally have to take a pair of tweezers, break the skin, and pull the hairs out. It not only happens in wounds, but grows right into whole skin as well. It's the strangest thing.
"So it was my fault," Jonah said. 
"Buddy, it wasn't you," I responded. "It was me, too. I had to care for you, and I just couldn't handle anything extra. She was re-homed to someone who loved her very much, and she had a good life." 
It's true that epidermolyisis bullosa (EB) has taken a lot from us. And some things, although not completely gone, have had to be entirely revamped to make them work.
Camping is out. Hikes have to be short, easy, and done on cool days. Swimming trips, or any type of water play, require scheduling, with a two- to three-hour window afterward for bath and dressing change.
Bike riding as a family is out. Anything outside on a hot day, gone. Restaurant outings are typically followed up at home with tube feeding. Our annual extended-family beach trip now requires daily bath and dressing change. Long walks on field trips or at places like the zoo or the fair require a wheelchair.
Baseball games — the boys' favorite — require a cooling vest, a battery-powered fan, and cooling towels. The latest, greatest, coolest pair of shoes is likely not going to fit over his bandaged feet.
EB is a thief. And EB took our cat. (She was the greatest cat, too, with the personality of a dog and the softness of a bunny rabbit. She did have some really stinky toots, though.)
But here's the thing: EB has opened our eyes to some really important things that we overlooked before. We value life more. We treasure our little family. We love movie nights, fires in the fireplace, games of chess, playing our version of baseball at the park, and snuggling on Jonah's bed reading Harry Potter. We like eating weird-flavored jelly beans on car trips and guessing the taste.
When I start comparing what we can't do with what others can, EB (and Satan) steal my joy. But when I look at what we have, who we are, and how we've learned to treasure each other, I feel so grateful. And I'm pretty darn proud of us, too.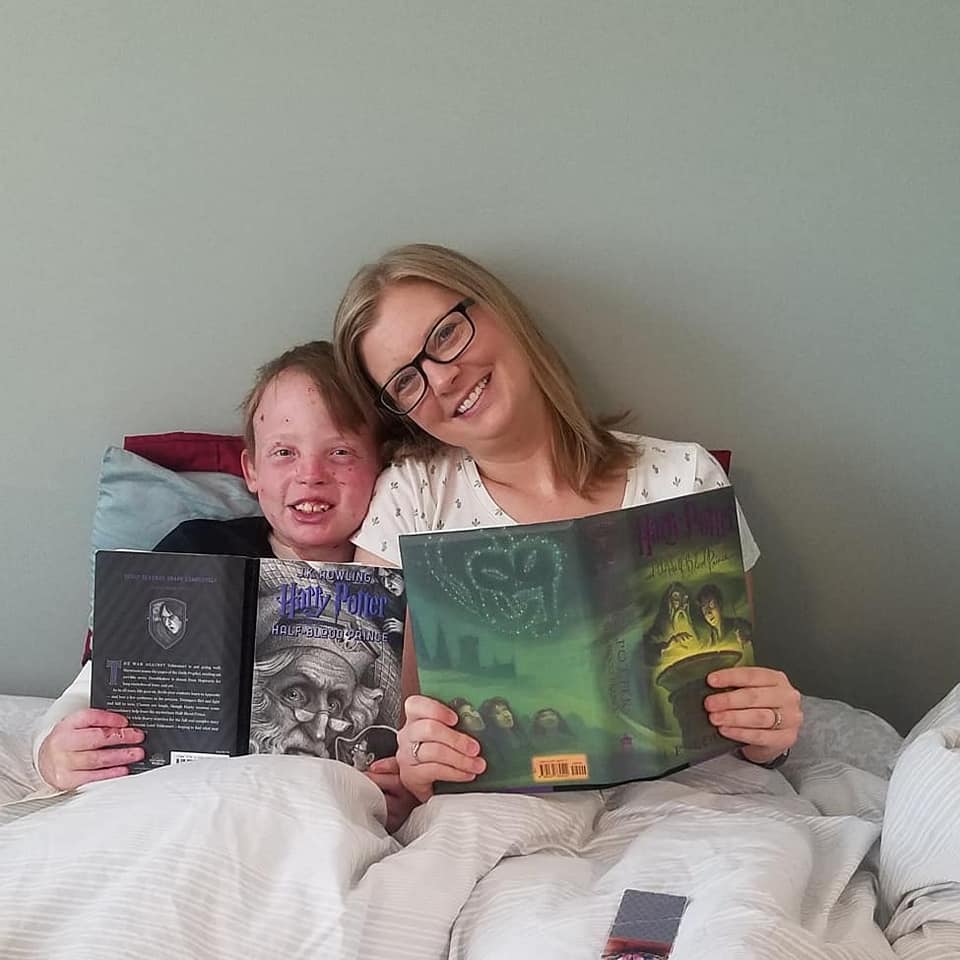 I wouldn't want to go back to who I was before. I was more selfish then. And weirdly, more anxious. I spent time worrying about things that didn't really matter. I see others fretting about things that no longer make sense to me — what college their child will get into, how many extracurriculars are on their transcript, planning the perfect birthday party, making sure their kids have the perfect Christmas card worthy outfit – and I just don't relate anymore.
It's not that I judge those people at all. I don't condemn them or think they're silly. I just have a totally different perspective now. 
And even though EB stole my cat, it has given me new eyes, a new way of seeing. 
Of course, I'd take Jonah's pain away if I could. If I could snap my fingers and give him a normal life, I would. I want his biggest worries to be homework and girls and sixth-grade drama. But that's not our life. Likely, it will never be our life. 
We live a different normal now. And even though some days are really hard and we lose sight of the little treasures, most days we live to love them. Part of my job as Jonah's mom and primary caregiver is to teach him to see — to see a mom and dad who love him more than life itself, to appreciate his stable family life, to be thankful for his cozy warm bed, and to even treasure a younger brother who drives him crazy (but would be first in line to beat up anyone who messed with him). 
Life is a gift. So, while we have it, however long that may be, I'm going to drain his wounds, bandage his body, and feed him by G-tube. And I'm going to be grateful. Because my handsome, hilarious, compassionate boy is here. And really, what else could a mom ask for?
***
Note: Epidermolysis Bullosa Today is strictly a news and information website about the disease. It does not provide medical advice, diagnosis, or treatment. This content is not intended to be a substitute for professional medical advice, diagnosis, or treatment. Always seek the advice of your physician or other qualified health provider with any questions you may have regarding a medical condition. Never disregard professional medical advice or delay in seeking it because of something you have read on this website. The opinions expressed in this column are not those of Epidermolysis Bullosa Today or its parent company, BioNews, and are intended to spark discussion about issues pertaining to epidermolysis bullosa.